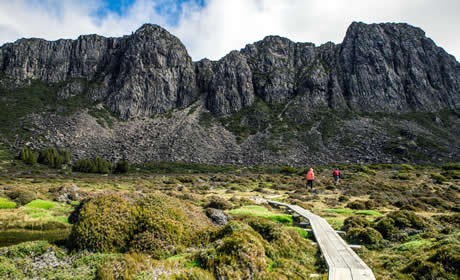 Part of the Tasmanian wilderness with alpine vegetation and endemic conifer forests amid a high plateau of dolerite peaks
The Walls of Jerusalem National Park is part of the Tasmanian Wilderness World Heritage Area. The landscape features found within the park include moraines and numerous tarns and lakes.
The Walls of Jerusalem National Park is very exposed to the extremes of Tasmania's changeable weather and with no road access and no casual visitor facilities bushwalkers need to be well-equipped and experienced in the often harsh Tasmanian conditions.
The ideal time for walking in the Walls of Jerusalem is from October to May although hardier souls may consider grabbing some snowshoes and heading out for a winter walk during August and September.
All persons entering the park must be fully self-sufficient.