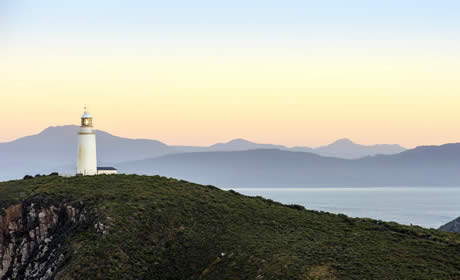 Wildlife, towering sea cliffs, lighthouse
South Bruny National Park features a spectacular landscape of towering sea cliffs and a lush natural rainforest sanctuary for wildlife. The park is home to several endangered plants and animals. There is an abundant bird population that includes the threatened forty-spotted pardalote.
At the southern end of South Bruny Island is the second-oldest and longest continually staffed lighthouse in Australia. There are fantastic walks with options for an easy stroll to challenging climbs. The Grass Point walk visits the ruins of a whaling station – and if you're lucky you might see a migrating Southern Right Whale passing by from June to October.
Camping and accommodation
Camping is permitted at Cloudy Bay, Jetty Beach and Bruny Island Neck Game Reserve. As Bruny Island is a popular holiday destination, there's commercial accommodation to suit all tastes and budgets, including a caravan park at Adventure Bay.