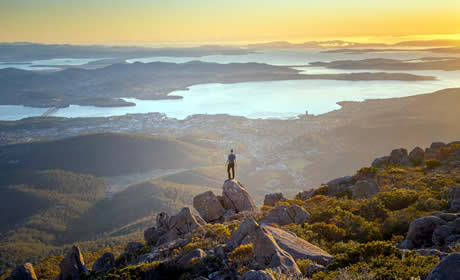 Accessible wilderness and stunning views a short drive from Hobart
Although a reserve and not a national park, kunyani/Mt Wellington is a touch of wilderness on Hobart's doorstep. The 21 km drive to the summit passes through temperate rainforest to sub-alpine flora and glacial rock formations, and ends with panoramic views of Hobart, Bruny Island, the D'Entrecasteux Channel and into the south-west wilderness.
Below the summit at the Springs, visitors will find picnic facilities, refreshments, and access to walking tracks, beautiful scenery and stunning views.
Walks on kunyani/Mt Wellington range from easy strolls to tough climbs through cool forests and past springs, cascades, waterfalls and the soaring dolerite columns of the Organ Pipes. The cliffs here are also perfect for rock climbing and abseiling. Mountain biking is also available. The North-South track offers some of Hobart's best mountain biking. There are tour operators running shuttles and tours that include pick up and drop off at The Springs.