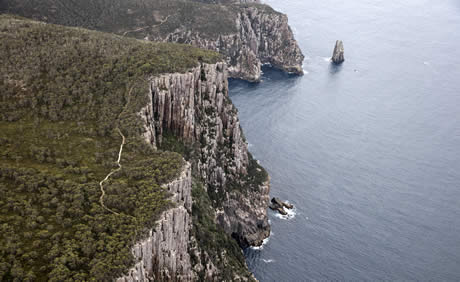 Dramatic beauty and natural diversity famous for its sea cliffs, rock formations and the Port Arthur Historic Site
The park is a popular tourist destination situated on the rugged Tasman Peninsula and contains a spectacular coastal environment including soaring 300 m high dolerite sea cliffs. Many striking rock formations along the coastline are easily accessed by car, including Tasman Arch and The Blowhole, two of Tasmania's most visited attractions, as well as Waterfall Bay, Remarkable Cave and the Tessellated Pavement.
The park has many bush walks - a stroll of an hour or two taking you to the edge of sheer drops overlooking deep chasms, surging ocean, off-shore islands, white-sand beaches, and a waterfall that tumbles down a sheer cliff face into the sea.
The park is also the home to the famous Port Arthur Historic Site, the best preserved example of Australia's early colonial heritage.
Tasman National Park is a 90-min drive from Hobart.