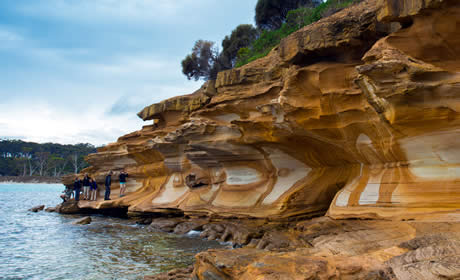 A natural wildlife sanctuary with historic convict heritage, sweeping bays and dramatic sea cliffs
Maria Island National Park is a natural wildlife sanctuary accessible only by ferry. There are no cars on the island so walking or bike riding are your only transport options. The park contains the most intact example of a convict probation station in Australia. The stone Commissariat Store, 150 metres from the jetty, is the island's oldest building and is now a visitor centre. Short walks explore the buildings and ruins of Darlington – a ghost town with a convict and industrial past.
Wombats can be seen around the island, as well as pademelons, Forester Kangaroos, Bennetts wallabies and Tasmanian Devils. Maria Island is also one of Tasmania's great bird watching hot spots. Eleven of the state's twelve endemic species can be seen here, including the endangered forty-spotted pardalote and the rare and unique Cape Barren goose.
Maria Island is a 30-minute ferry ride from Triabunna, about one and a half hours from Hobart and two and a half hours from Launceston.