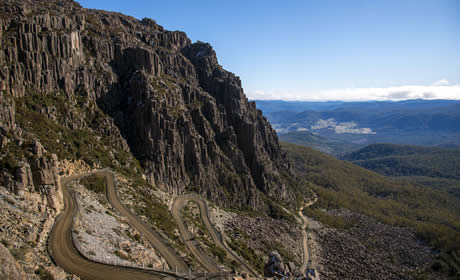 Imposing precipitous cliffs visible over much of northern midlands of Tasmania, Launceston's winter snowfields
Dominated by an alpine plateau and surrounded by precipitous escarpments, the mountain of Ben Lomond is the main destination for downhill skiing in Tasmania. Its stark, treeless landscape is visible from much of Tasmania's north and the road to the top, known as Jacob's Ladder, is sure to leave a lasting impression.
Of the larger mammals, Bennett's wallabies and wombats are common and are regularly seen in the ski village during summer and winter while Pademelons are abundant in the wet gullies and areas with thick undergrowth.
Being able to drive to the plateau, visitors can readily enjoy striking mountain-top features such as dolerite columns and scree slopes. Several day walks are available including Carr Villa to Alpine Village (1.5 hr one way) and Alpine Village to Little Hell (1.5 hr return).
Camping
There's a small camping area 1 km inside the park boundary and several kilometres below the summit. There are six un-powered sites that are suitable for tents or campervans, flush toilet, drinking water and a lookout. A shelter shed provides relief from rain.