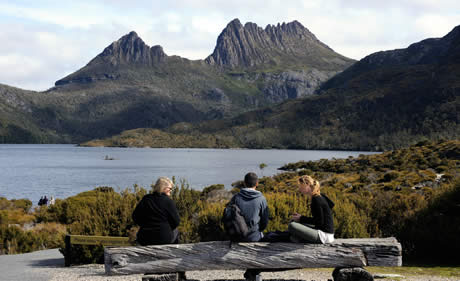 Ancient rainforests and coastal heath, home to Cradle Mountain and start of the Overland Track
Cradle Mountain is one of Tasmania's most visited locations. Part of the Tasmanian Wilderness World Heritage Area, the park is one of the state's most special places, where ancient pines fringe glacial lakes and icy streams cascade down rugged mountains.
The vegetation is rich and diverse including grassland, rainforest and many ancient plants such as the long-lived and endemic King Billy pine and the unusual native deciduous beech. The park also provides a rich habitat for wildlife, including Tasmanian devils, quolls, platypus, echidna and several bird species.
Dramatic Cradle Mountain, at the northern end of the park, is the rugged jewel of the park and can be seen from Dove Lake on a day visit. Take the two-hour walk around the lake or spend the day tackling Cradle Mountain's summit. There are also a variety of shorter walks that pass through beautiful old-growth rainforest.
Lake St Clair at the southern end of the park is a walkers' paradise, with leisurely lakeside strolls and longer forest walks. Visitors in late spring and summer can witness a brilliant display of wildflowers including waratahs, orchids, banksias, hakeas and leatherwoods.