The mountain of kunanyi/Mt Wellington dominates the Hobart skyline. It's visible from just about anywhere in Hobart and locals, not surprisingly, refer to it simply as "the mountain".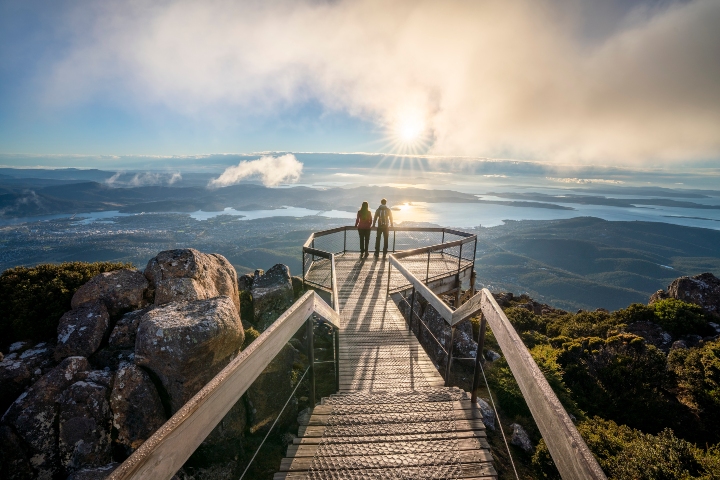 Hobart's kunanyi/Mt Wellington offers walking, climbing, abseiling, mountain biking, cycling and sightseeing opportunities just 35 minutes from the city centre.
Only in Tassie would you find so much wilderness and natural beauty so close to a city centre. There are many tours and transoport options from the centre of the city.
The 21-km drive to the summit at 1271 m, passes through temperate rainforest to sub-alpine flora and glacial rock formations and ends with panoramic views of Hobart, Bruny Island, D'Entrecasteux Channel and into the south-west wilderness. The mountain is criss-crossed with walking tracks ranging from easy strolls to tough climbs. Walkers pass through cool forests and past springs, cascades, waterfalls and the soaring dolerite columns of the Organ Pipes. It's around 10 degrees colder up there so don't forget to dress appropriately.
Where: 21 km from the centre of Hobart.
When: All year round, except in extreme weather. Check out the City of Hobart website for information on road closures.
Local Tip: The relatively flat Organ Pipes Track traverses the mountain just beneath the soaring dolerite columns known as the Organ Pipes. It's suitable for most walkers. When you reach the end of the track, turn right and head to the top of the mountain if you're feeling active.