Only 15 minutes from Hobart's CBD is Mona, the Museum of Old and New Art.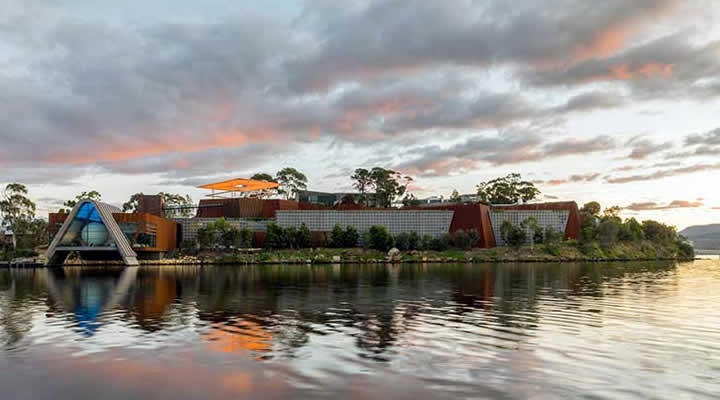 Mona is Australia's largest and most controversial private collection of art with around 300 works on display. The building alone is fascinating, cut into layers of sandstone with the collection spread across its three floors. It's also home to the Pharos wing, Moorilla Winery, The Source Restaurant, bars, a cafe, accommodation pavilions and more.
Mona hosts two hotly anticipated festivals across the state each year. In January, MONA FOMA unleashes an eclectic mix of music and art. And in June, the Dark Mofo winter festival delves into centuries-old winter solstice rituals and celebrates the dark through art, music, food, film, light and noise.
Where: Berriedale, a 15-minute drive or a 30-minute fast ferry ride up the river, departing from Hobart's Brooke St Pier.
When: Friday – Monday, 10am – 5pm.
Local Tip: Start your Mona adventure with a ride to the museum on the Mona fast ferry. Opt for a Posh Pit ticket and you'll be sipping on sparkling wine, craft brews and sampling canapés as you glide down the River Derwent. It's worth it just for the view of the imposing building from the water alone.