The Tasman Peninsula is a place of rugged beauty with some of the most stunning coastal scenery unlike anywhere else in Australia.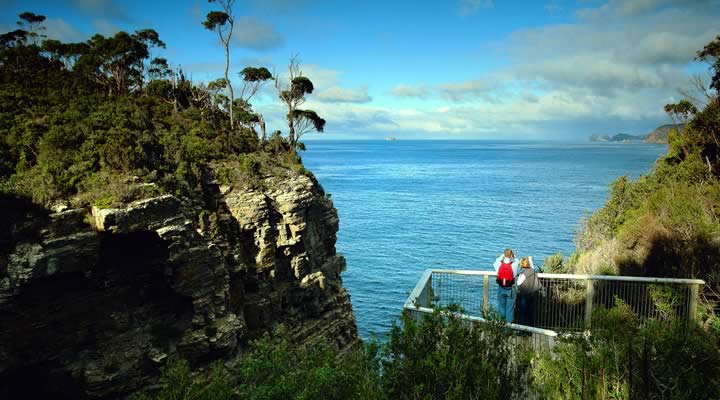 The Blow Hole and Tasman Arch are just two of many unique geological formations found on the peninsula - keep an eye out for the Devils Kitchen, Tessellated Pavement, Remarkable Cave and Waterfall Bay, which are all easily accessible by car.
Extend your time in the region and join the Three Capes Track, an independent multi-day walk through parts of the Tasman National Park with exhilarating cliff top views. At the southern end of the park are some of the highest and most spectacular sea cliffs in the world, best experienced from the sea. For a close up view take an eco-cruise to the tip of the peninsula. The national park is also home to the famous Port Arthur Historic Site.
Where: Around a 90-min drive from Hobart on the Tasman Peninsula.
When: Open all year round, and at its most dramatic during high tide.
Local Tip: On your way to see the Tessellated Pavement, make a short detour up Pirates Bay Drive to Cubed Espresso and enjoy a coffee while you look out over Pirates Bay. Keep an eye out for the Doo-Lishus food van just near the Blowhole too- serving tasty local fish and chips, scallop pies (a Tassie delicacy) and delicious raspberry ice cream made fresh from local berries.