Must do experiences in the Western Wilds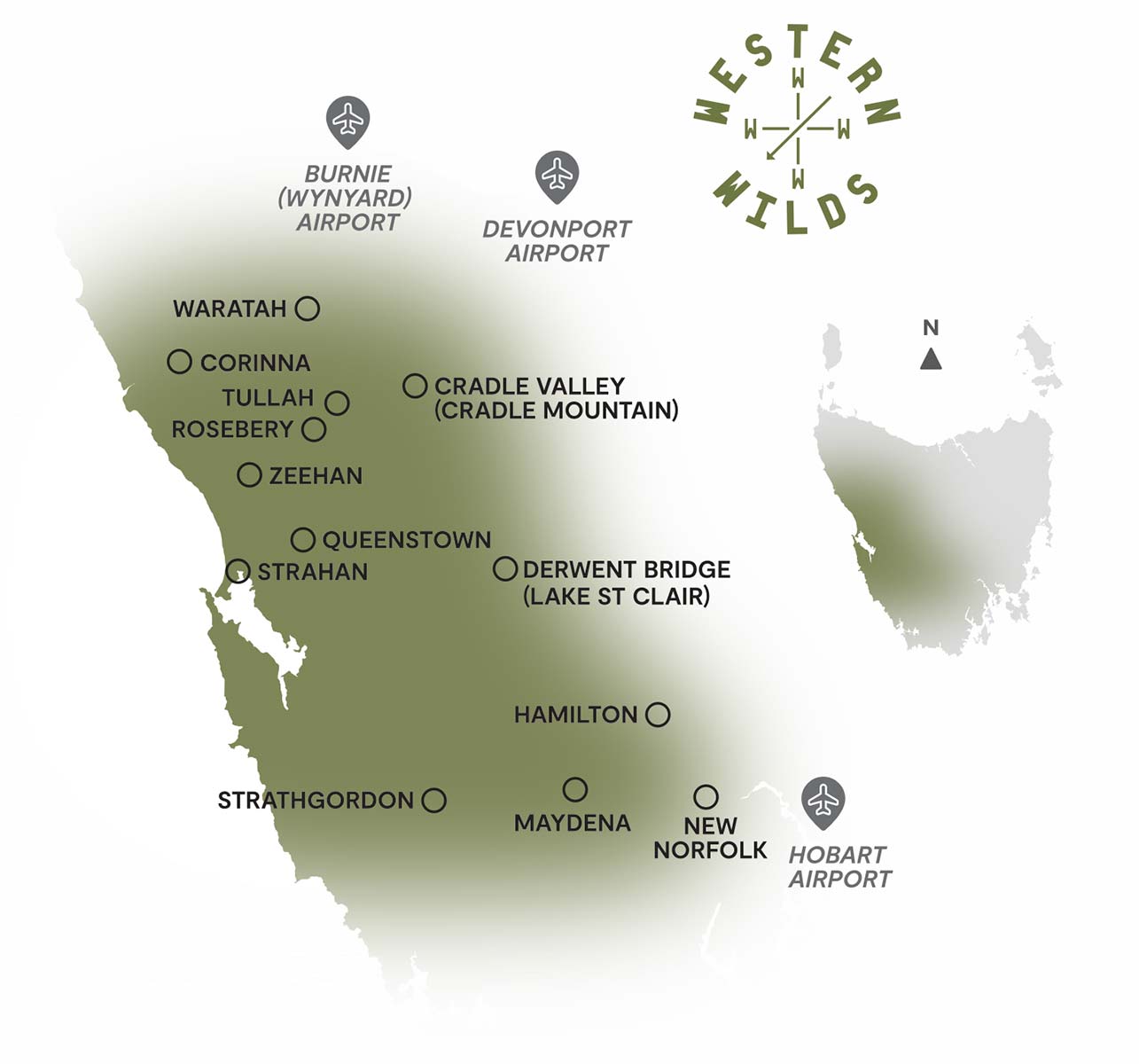 Tasmania's west is known for its wilderness landscapes: cool-temperate rainforests and alpine plains, mountains and glacial valleys, wild rivers and windswept coasts and the unique flora and fauna of the UNESCO Tasmanian Wilderness World Heritage Area. Lesser known are the human stories of the region – epic tales of an ancient Aboriginal culture that thrived over thousands of years, and of tenacious pioneers who overcame adversity and unimaginable challenge to build lives of meaning and accomplishment in the wilderness. Road trips in the Western Wilds allow travellers to explore untamed landscapes, follow in the footsteps of pioneers and unearth wild stories of mining booms and busts in western Tasmania.
Mt Field National Park
See pretty Russell Falls, our most photographed waterfall, accessed via a short loop track through temperate rainforest or take a longer walk into the national park. In autumn, witness the 'turning of the fagus' as Australia's only winter-deciduous tree turns to beautiful tones of yellow, orange and red.
Gordon Dam abseiling
Take a deep breath and don't look down as you embark on the longest commercial abseil in the world, 140 metres down the face of the Gordon Dam.
Lake Pedder and Pedder Wilderness Lodge
Created in 1971 with the flooding of the original Lake Pedder for Hydro development, Lake Pedder is now a huge 242 square kilometres, a popular fishing spot, and home to Pedder Wilderness Lodge.
Derwent Bridge and the Wall in the Wilderness
Artist Greg Duncan is carving a massive timber sculpture at Derwent Bridge. A work in progress, The Wall in the Wilderness is his tribute to the past and present residents of Tassie's Central Highlands, with bookings essential
Strahan and the Gordon River
Base yourself at Strahan, a picturesque fishing village, and take a cruise to Sarah Island and down the Gordon River to see Australia's oldest living trees and pristine waterways, all part of the Tasmanian Wilderness World Heritage Area. Take a ride on the West Coast Wilderness Railway as it journeys through wilderness and mining history at the same time.
Queenstown and Zeehan
Explore the mining history of Queenstown and nearby Zeehan, walk along 19th century streetscapes and visit museums and mine sites in the hills around the towns.