Must-do experiences in the Southern Edge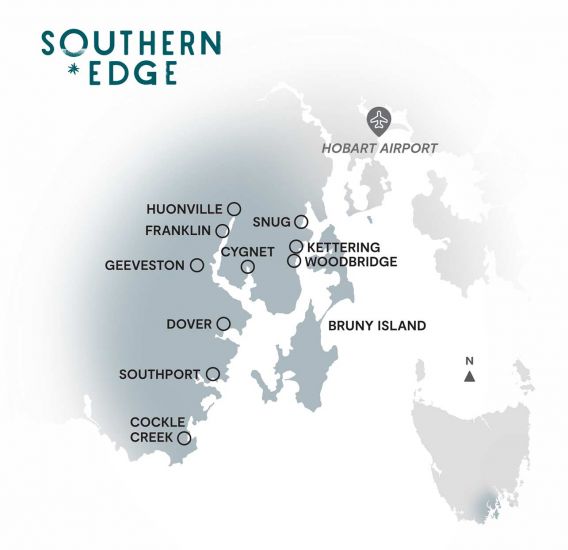 Southern Edge road trips are framed by water and defined by the edges of river and sea. Head to Tasmania's most southern point – next stop, Antarctica. Swing by cider houses for tastings and peruse farm-gate stalls. Pass orchards and tranquil waterways fringed with bobbing wooden boats. Take a detour by ferry to Bruny Island for freshly shucked oysters and farmhouse cheeses. The Southern Edge represents the clarity of a dark night sky and the comfort of stargazing from a hot outdoor tub. This is the place for wildlife watching, wilderness walking and solitude.
Cider houses
Learn more about apple cider and the Tasmanian apple industry at Willie Smith's Apple Shed, or drop into Frank's Cider and Pagan Cider to sample how good our apples can be.
Paddock-to-plate at Fat Pig Farm
TV celebrity cook Matthew Evans opens his farm on Fridays to host a long lunch prepared using produce grown in his garden, with matching beer, wine, cider and spirits from around Tasmania.
Tahune Adventures
Walk above the forest canopy and look down on the wild waters of the Huon and Picton Rivers at Tahune Adventures. The 600-metre treetop walkway ends at a spectacular cantilevered platform 50 metres above the riverbank with views extending to the mountains of the World Heritage Area.
Hastings Caves
Hastings Caves and Thermal Springs were formed millions of years ago and discovered in 1917 by timber workers. The dolomite cave is one of two show caves found in Australia. Take a guided tour and enjoy a dip in the 28°C thermal springs afterwards.
Bruny Island
Bruny Island has some of Tasmania's most beautiful natural environments with abundant wildlife and stunning cliff-top views. It's a haven for foodies and an excellent self-drive journey. You can take your car on the ferry from Kettering, but check ferry times when planning your trip as they can change seasonally.
Take the Quiz
You have reached the end of Module 4. Now try the quiz we sent you when you successfully completed the previous module. Get full marks and we'll send you the link to the next quiz to try when your ready.