Itinerary Experiences for the Great Eastern Drive
Great Eastern Drive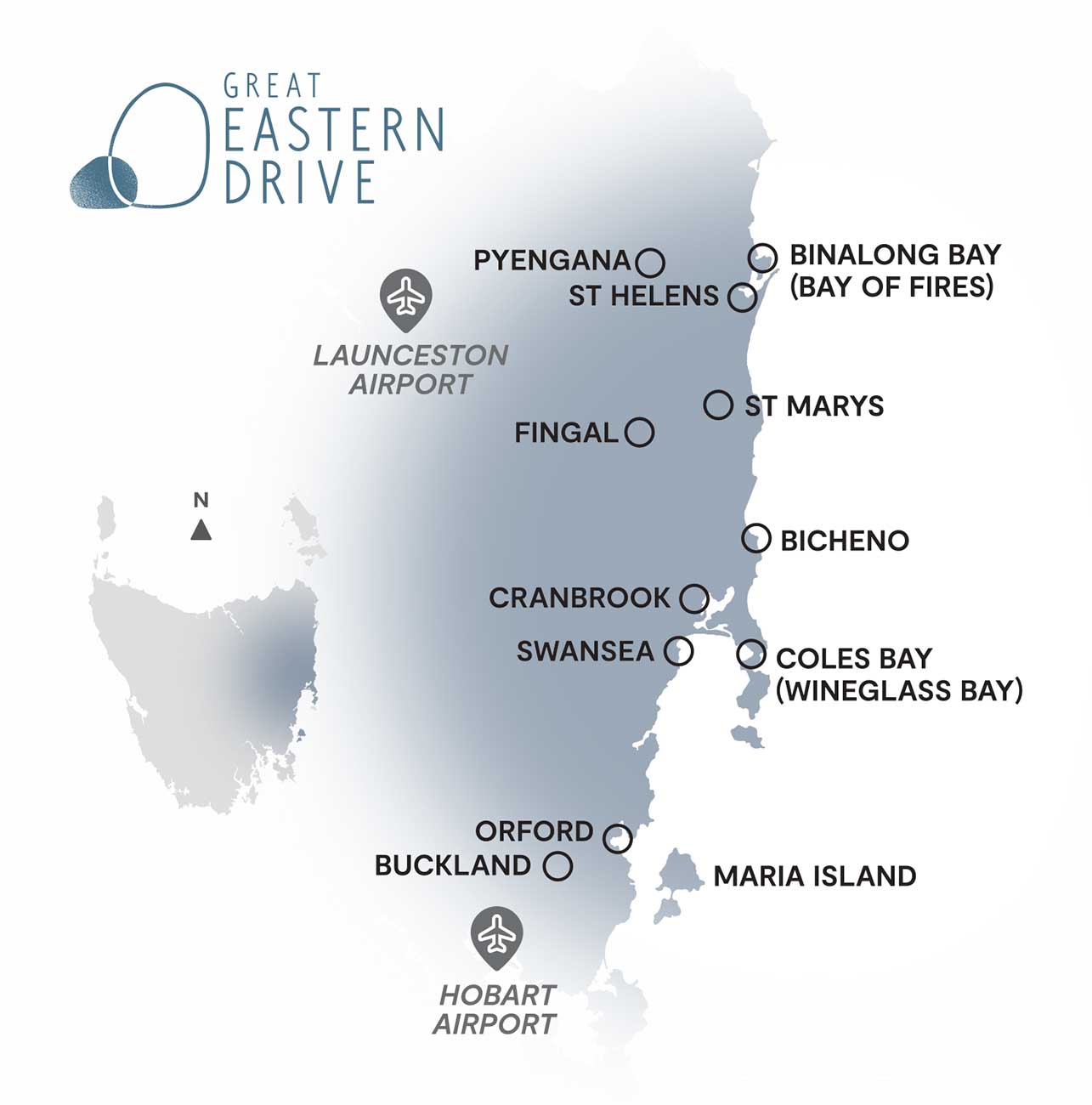 The Great Eastern Drive meanders through laidback seaside towns along a stunning stretch of coastline and uncrowded, white-sand beaches, and into the hinterland. Take in the perfect arc of Wineglass Bay, and national parks threaded with walking tracks. Enjoy the rare pleasure of meeting the people who harvest and shuck the oysters you're eating. Make time for cellar-door chatting and tastings at the boutique wineries near Cranbrook. Take a break at Triabunna and catch the ferry to Maria Island, crisscrossed by walking trails, and full of geological wonders and fascinating human history. This is a car-free haven for abundant wildlife, especially wombats. This is a special place to observe – but not touch – wildlife in its natural habitat.
Explore the east coast
Exploring the Great Eastern Drive can be done by car, caravan, motorcycle or even bicycle. But why not stop along the way and take your time to explore the beauty of the coast by foot on one of our many guided walks. Combine spectacular scenery with history on the award-winning Maria Island Walk. Join a small group and explore the beaches of the Bay of Fires, stay in eco-luxury at the Bay of Fires Lodge with the Tasmanian Walking Company, or walk in the footsteps of the traditional palawa people on the wukalina Walk, Tasmania's premier aboriginal tour - owned and operated by Tasmania's aboriginal community.
1. Bay of Fires
The Bay of Fires is a slice of coastal heaven stretching over 50 kilometres from Binalong Bay in the south to Eddystone Point in the north. Lonely Planet named this beautiful area the hottest travel destination in the world and it's widely regarded as one of the most beautiful places in Australia.
2. Farm Shed East Coast Wine Centre
Located in Bicheno, enjoy tastings from local east coast vineyards, including some exciting smaller wineries that don't run a cellar door. You can even make up mixed cases (not possible at the cellar doors) and post them home.
3. Devils Corner Cellar Door and lookout
Take in views of the Hazards and Freycinet Peninsula from the lookout, taste freshly shucked oysters and seafood straight from the nearby Freycinet Marine Farm, or grab a Tombolo Freycinet wood-fired pizza.
4. Freycinet Marine Farm
The Freycinet Marine Farm offers freshly harvested mussels, oysters and local Tasmanian rock lobster, abalone, scallops, urchin and salmon – all from Tasmanian waters.
5. Freycinet National Park
Home to the dramatic pink granite peaks known as The Hazards, as well as secluded bays, white sandy beaches, abundant birdlife and Wineglass Bay, Tasmania's most photographed view. It's only a 45-minute walk to Wineglass Bay lookout for that iconic view. Access the park from Coles Bay.
6. Maria Island
Take the short boat journey from Triabunna and spend a day or longer exploring Maria Island. This is a place for wandering through historic ruins and along coastal walks, ascending mountains, exploring on a bike, encountering incredible wildlife or simply relaxing on a perfectly beautiful beach.