Must-do experiences in the Heartlands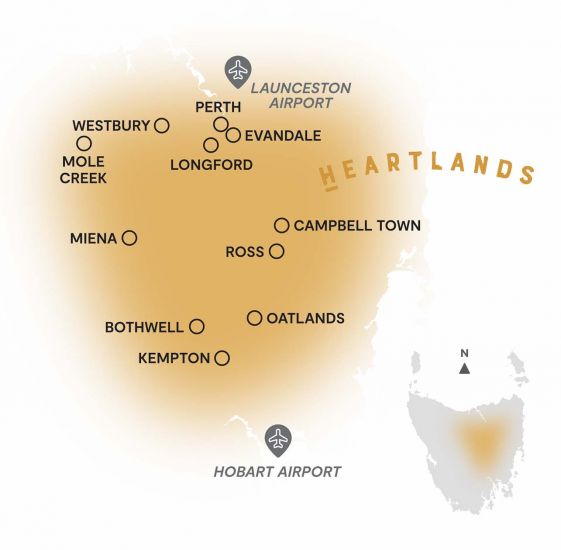 Head straight to the heart of Tasmania, where living heritage and old-fashioned hospitality can be found at every turn along convict-built roads and country lanes hemmed by hedgerows. Take a road trip through lands traditionally owned by Tasmanian Aboriginal nations, settled by Europeans in the early 1800s, and farmed, worked and loved by generations of Tasmanians since. Stroll among glorious Georgian-era facades and gardens in heritage towns that make you feel like you have stepped into a live set of a period drama. Venture into the Central Highlands and north to the Great Western Tiers, a wild landscape of lakes, mountains and moors, and follow a "power trail" for immersion in hydro industrial history.
Evandale
Stroll along the main street of this charming National Trust village just 20 minutes from Launceston. Evandale is home to the National Penny Farthing Championships held every February, the coveted Glover Prize for Landscape Painting held in March, and the Evandale Market held every Saturday.
Clarendon Estate
Built by convict labour for wealthy English wool grower, James Cox, Clarendon is a superb three-storey Georgian estate. Explore the servants' quarters, walled garden, farm buildings and a rare avenue of elms. Enjoy a Devonshire tea in the tearooms and the flowing waters of the South Esk River nearby.
Longford
Visit the World Heritage listed sites of Brickendon and Woolmers Estates, two fine examples of early colonial farm life. You can stay overnight at both sites in a range of accommodation.
Campbell Town
Roughly half way from Launceston to Hobart, Campbell Town has always been a place to stop, even in colonial times. Take a self-guided walk along the Convict Brick Trail on High Street and learn of the individual stories of Tassie convicts or call into the Heritage Highway Museum.
Ross
Ross is arguably the finest nineteenth century village in Australia. Cobble-style paths and grand old elm trees line the main street, while the Ross Bridge, Australia's third oldest bridge still standing, is possibly the most beautiful of its kind left in the world. Ross is also home to the Ross Female Factory Historic Site.
Oatlands
Boasting the most sandstone buildings in any Australian town - 150 at last count - many have been converted into shops, cafes, antique stores and accommodation. The restored 19th century Callington Mill dominates the townscape, Australia's only operational colonial windmill.
Kempton
Just off the highway, Kempton has antique and second hand stores and a historic pub. Keep an eye out for the fascinating Belgrove Distillery where they produce rye whisky using biofuel and Dysart House in town, where you'll find Old Kempton Distillery.
Shene Distillery
The last stop, just before Hobart, is the convict built historic estate, Shene Estate & Distillery, home to the award winning Poltergeist Gin and Mackey Whisky.